Has Firefox's popularity really waned? The answer is a definitive "Yes." Statistically, however, so has every other web browser except for Google Chrome. The fact Net Applications calculates Internet Explorer's market share to be 58.38% is laughable. Likewise, 19.34% for Google Chrome is erroneously wrong and potentially deceptive.
Let's take a look at what other reports say. Below the charts I give my opinion...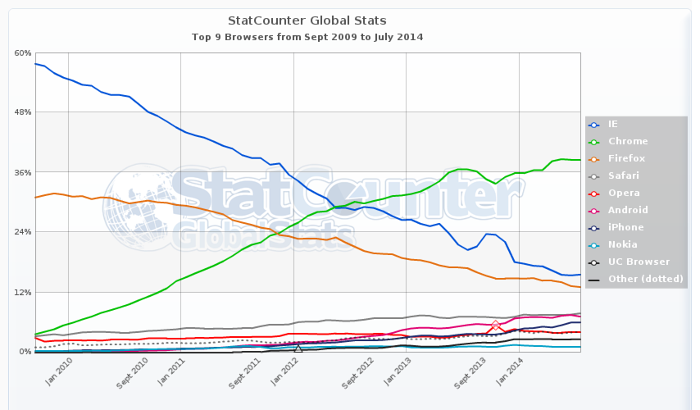 My Own Statistics
This report excludes agents with missing information or that have the words bot, crawl(er) or spider in them.
No matter how you look at it, Firefox's popularity has declined somewhat, but it certainly has nothing to do with "adding ads to the web browser" nor "continuing CEO problems" as Steven J. Vaughan-Nichols thinks.
Firefox's decline in popularity is most likely due to Mozilla's tendency to be slow to adopt and implement new web tech.
Firefox's decline in popularity is most likely due to Mozilla's tendency to be slow to adopt and implement new web tech. For example, Mozilla promptly implemented WebRTC, however, it remained cumbersome to use for a very long time, requiring developers to set up a fake audio or video stream in order to even initiate a DataChannel.
In addition to being slow to implement new web technologies, in many cases Mozilla doesn't implement them fully on non-Windows operating systems for a very long time. For example, playback of MP4 and H.264 with the <video> tag wasn't supported on GNU/Linux until Firefox 26, where it remains somewhat buggy in Firefox 30, and Mac OS X isn't likely to see MP4 and H.264 support until Firefox 32.
Google Chrome, conversely, is primarily focused on adopting and implementing the newest web tech, and Google does a very good job making it available on every platform Chrome supports. Chrome also has exceptional developer tools built directly into the browser, leading many web developers and programmers to prefer Chrome, and thus leading to many websites recommending Google Chrome to visitors. Firefox has decent developer tools as well, and while I do prefer them, there's no denying Chrome's superior functionality.
However, during the period of time when new HTML5 technologies were just being introduced, such as the <video> and <audio> tags, the <canvas> tag, new CSS3 features like font downloading, height and width calculation, Flexbox and the new table related display types, Mozilla was occasionally the first to implement these new web technologies, and they were implemented very well across all platforms.
Today Mozilla is once again leading the way with some of the newest web technologies, such as Emscripten...
Today Mozilla is once again leading the way with some of the newest web technologies, such as Emscripten, which allows developers to port their C/C++ programs to the browser via JavaScript and WebGL. From text editors and system utilities to full 3D first-person shooter games. Emscripten is already bringing amazing things to the web that many would have never thought possible a mere five years ago.
I could give many examples of just how great and useful Emscripten is and how much it will enhance and improve the web for everyone, but instead I'll just invite you to play Unity3D's Dead Trigger 2 beta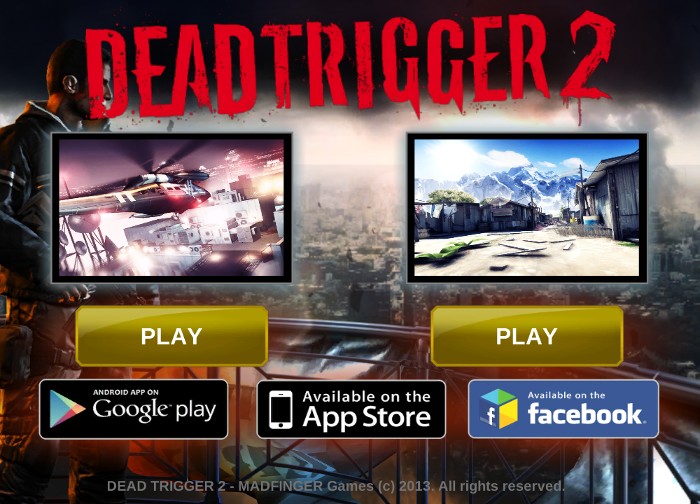 Don't try to run it in Chrome, it will likely slow your system down to a halt. Emscripten is an example of new HTML5 tech that can only really be used in Firefox, as many Emscripten ports, primarily ports that use WebGL, don't work very well if at all in Chrome (as of 35.0.1916.153).
Emscripten is definitely a great innovation by Mozilla, and it's this kind of innovation that Mozilla needs to continue if they want to regain their lost market share. Mozilla needs things like this that get people talking about Firefox, gets people excited about Firefox, and most importantly gets people using Firefox. A Mozilla monopoly on Emscripten wouldn't be a good thing in the long run, but for now, as with Dead Trigger 2, people will have to switch to Firefox in order to use many Emscripten ports, which will hopefully get them using Firefox again.
Firefox still has many problems, though. Its inability to really utilize multiple CPU cores is a huge performance bottleneck, especially for gaming. Once Google fixes the bugs in Chrome that cause it to choke-up and slow down, Firefox will once again be playing catch up. And that's the real cause of Firefox's decline.
In the end, it's always playing catch up.